Mac Pro Memory Upgrades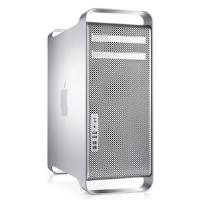 Looking to upgrade the RAM in your Apple Mac Pro? Then you're in the right place. With over fifteen years' experience in providing matched memory upgrades for Apple workstations, you can rest assured that you're in safe hands with Memory Express. Our comprehensive range of Mac Pro RAM upgrades includes memory for all generations of the Mac Pro - from the original 2007 models through to the latest dual quad core workhorses.
To get started finding the right matched memory upgrades for your Apple Mac Pro, please select the machine you wish to upgrade:
If you're not 100% sure which model you have, please don't hesitate to give us a ring on 020 8453 9700.
Why is upgrading memory a good idea?
As time goes on, computers require more and more memory to run the latest and greatest applications smoothly. In addition, many machies shipped with less than the optimal amount of memory in the first place!
If you're not sure how much memory you need, we have a wizard that can help you work it out here.
Why it's important to get the right memory for your machine
Complex electrical equipment like your Apple Mac Pro is precision manufactured with particular component parts in mind. Many customers who come to us have already purchased the wrong memory for the Mac Pro elsewhere before coming to us and discovered that, whilst it might fit in the machine's slots, it can be unstable, lead to crashes and data loss if it works at all! We carefully check all our memory is 100% compatible with the machine specified using our nearly twenty years' experience in this complex arena.
With the earlier Mac Pros in particular, very specialist modules with special heat sinks are required that are used in no other machine. Memory Express are one of the few suppliers to stock these modules.
We use the same high quality manufacturers as the major OEMs, including Samsung, Elpida, Hyundai/Hynix, Micron and Infineon and that's why we're happy to offer a full guarantee on memory parts - that they'll work in the specified machine for the life of the machine.
Installing memory in your Apple Mac Pro
Installing memory in modern Workstations is straightforward and does not require any special skills. We supply basic installation instructions on our order confirmation emails and if you get stuck, we're always at the other end of the phone.
Safe and Secure
Memory Express is certified secure by Comodo, the world's leading authority on web security
Checkout and Order

You have items in your basket.

Checkout
Easy Shopping
We take payment by Paypal, Google Checkout and all major cards through our 100% secure servers.

Quick Delivery

We can often deliver overnight for existing account customers.
Any Questions?

We're always happy to help - you can call us on 020 8453 9700 or email sales@memory-express.co.uk
NB You do not need to log in or register to place an order. Logins are to our corporate purchasing system and for those customers with existing terms.
| | |
| --- | --- |
| Your email | |
| Your question | |
| Product | |